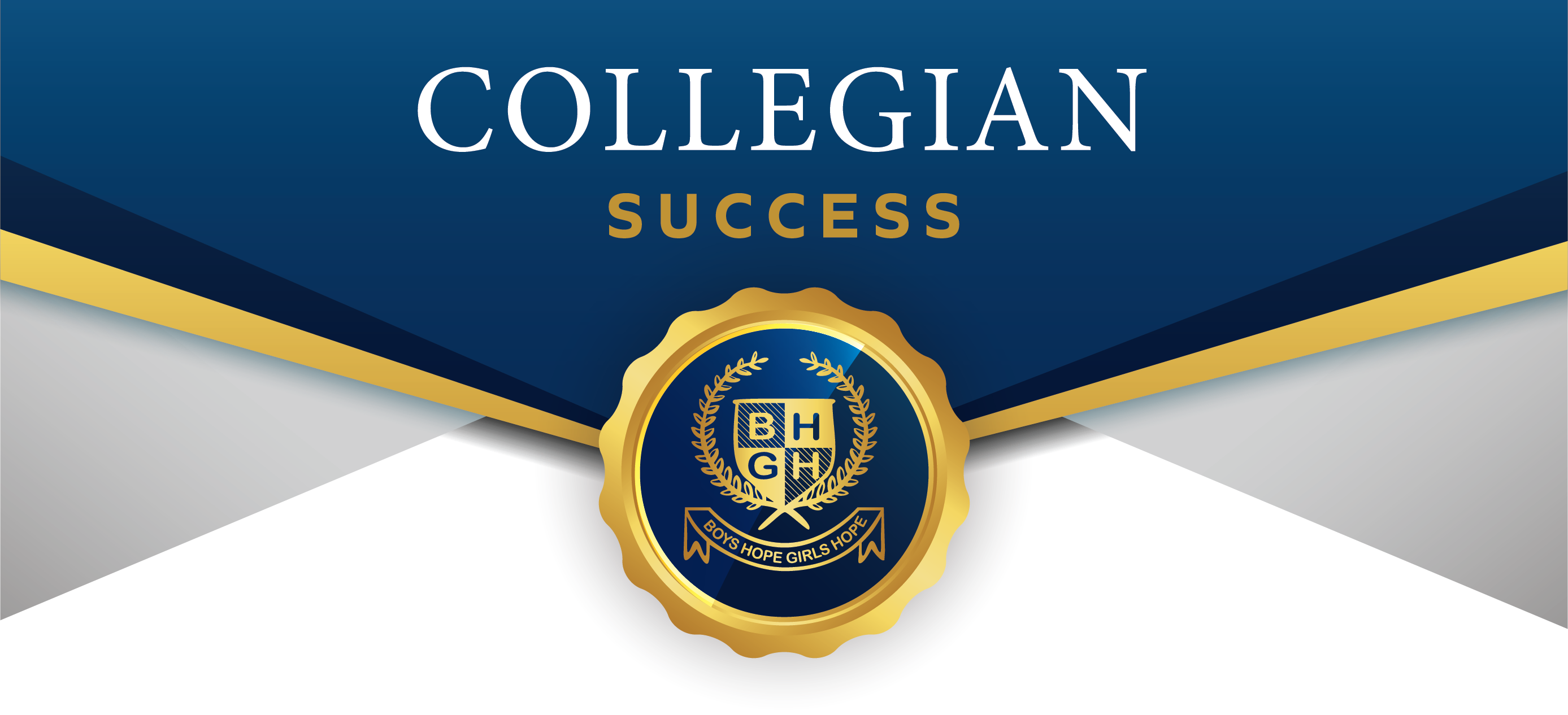 The Boys Hope Girls Hope Academic Honor Roll, published during the Fall and Spring semesters, is recognition of a Boys Hope Girls Hope collegian's outstanding undergraduate academic achievement that particular semester.
Boys Hope Girls Hope collegians are enrolled in the equivalent of 15 or more credit hours. To be named to the Academic Honor Roll, a collegian must have earned a GPA of 3.0 or above.
Despite the challenges of the 2020 COVID-19 pandemic, these collegians have excelled in their educational pursuits.
Joshua Abzun
Breany Beltran
Precious Blanding
Jaymillia Booker
Melissa Castro
Rocio Cigarroa
Fernando De Los Rios
Pelarr Edwards
Les'Leh Fortenberry
Holly Fraychineaud
Jackelyn Gildo
Vernon Green
Sidney Hartzell
Jennifer Hong
Shaniya Isaac
Yumeri Jimenez
Janet Macias
Medan Mamo
Roman Martinez
Maria Mejia
Julia Moreno
Naieemah Muhammad
Andrea Orozco
Mykhal Parson
Tyler Passie
Aileen Pena
Jennifer Phan
Brandie Radilla Galicia
Tatsuya Rivera
Cindy Rodriguez
Apshara Siwakoti
Quincy Slaughter
Rayburn Tang
Aline Thongvanh
Gilberto Torres Gomez
Michelle Tsang
Malique Williams
Monet Wright
Aissatu Bah
Betsy Belbuena
Dalonzo Curges
Djibril Diallo
Kingsley Fomba
Quinsker Frimpong
Liliana Garcia
Lakeesa Gilyard
Roberto Huerta
Madison Jimenez
Jaam Magot
Angela Martinez
Antoinette Neal
Nigel Robinson
Peter Robles
Jada Rudolph
Stephanie Segura-Guerrero
Nahvia Williams
Inique Wilson
Janielle Young
Kevin Aguilera
Jacob Allen
Lewis Angeles
Alejandra Aquino
Vanessa Arrington
D'Andre Barriffe
Idjatou Barry
Maame Boateng
Christel Burrell
Maria Calderon
Breanay Clemons
Chara Conway
Cal'Neshia Cooper
Magnolia Cruz
Saschelle Dalrymple
Jeremiah Debrosse
Kevyn Duran
Roxanne Dyer
Daouda Elegbe
Deja Emmanus
R'ron Fisher
Joshua Fitzgerald
Eduardo Garduno
Michell-Lee Graham
Jaqueline Gutierrez
Jordan Hawthorne
Bryan Hunnell
Jaylin John
Patrick Kane
Jordan King
Walter King
Tevin Lashley
Nykole Lazcano
Osvaldo Lopez
Daniela Lugo
Daniel McGhee
Arionna McMiller
Atira Meade
Lizette Mejia
Sha'Kiya Money
Kelvin Monje-Gonzalez
Romaris Moquete
Kabelo Muhammad
Emmanuel Mulindwa
Lorena Munoz Estrada
Jessica Navarro
Kayla Newman
Gaelle Noel
Stephanie Paz-Pena
Ivyanna Peoples
Honeste Peterson
Alvaro Roman
Nehe-Miah Scarborough
Isabella Servin
Hananeya Sibhatu
DaShawn Simon
Makaiya Smith
Dishawnti Stokes
Jason Tang
Jaron Taylor
Selena Teran
Sinai Urbieta
Zada Vera
Manuel Vindiola
Kayla Wallace
Darius Washington
Christian Wells
Lashawnda Wilson
Hannah Yates