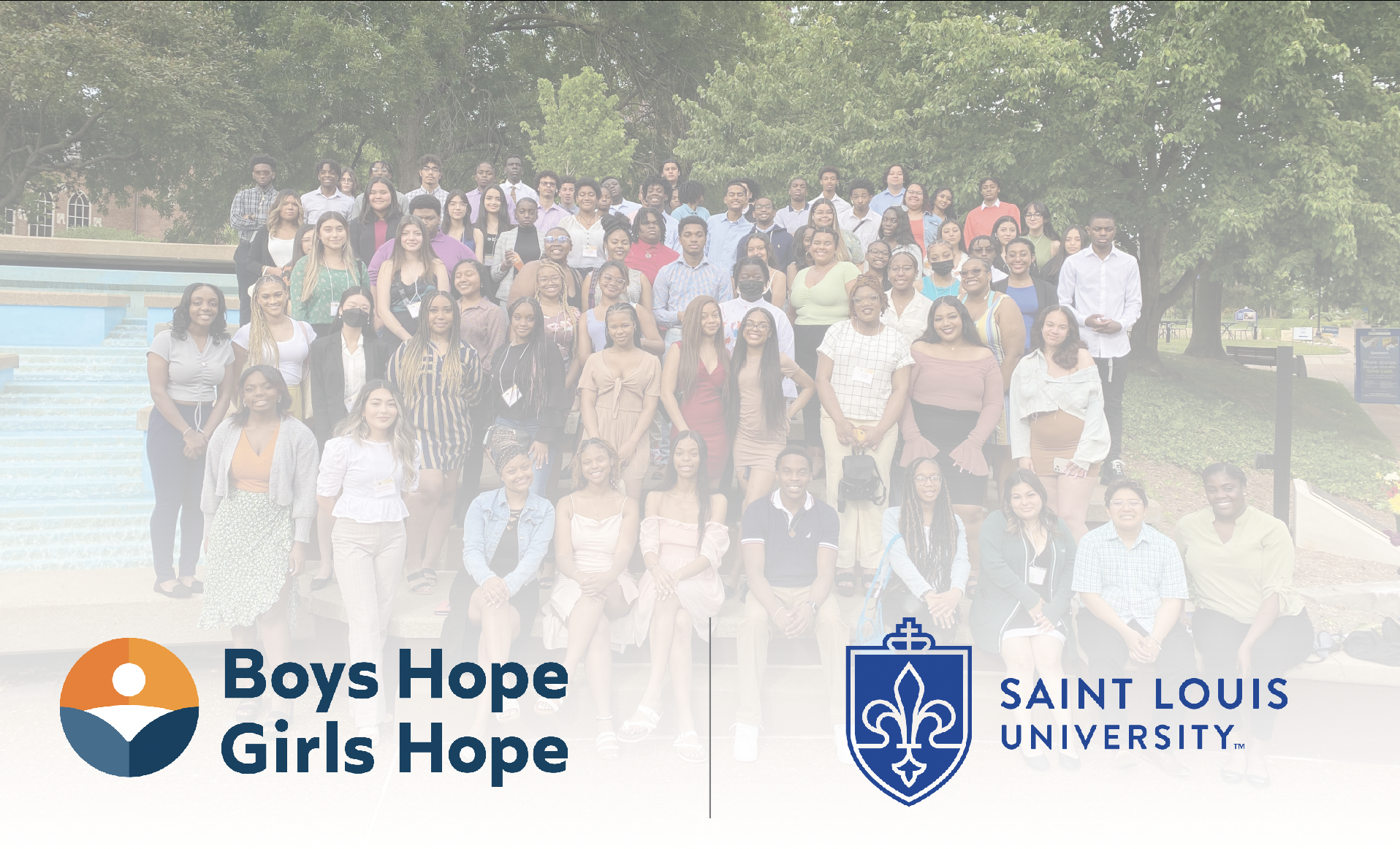 University Partnership

Provides Pathway to Success for Boys Hope Girls Hope Scholars
"
At the start, I thought it would be great if we could make a pathway for scholars to attend SLU," Collins said. "It just made sense because so many local supporters of Boys Hope Girls Hope were also alums of the university

."
Boys Hope Girls Hope and Saint Louis University share a lot in common. Jesuits founded both organizations.  Both are committed to providing a first-class education for young people. Both produce "men and women for others" who become community leaders.  
Inspired by this shared vision, the institutions have worked together to support first-generation students over the years. Collegiate Prep, a week-long capstone experience for graduating Boys Hope Girls Hope seniors, was hosted on the SLU campus for years.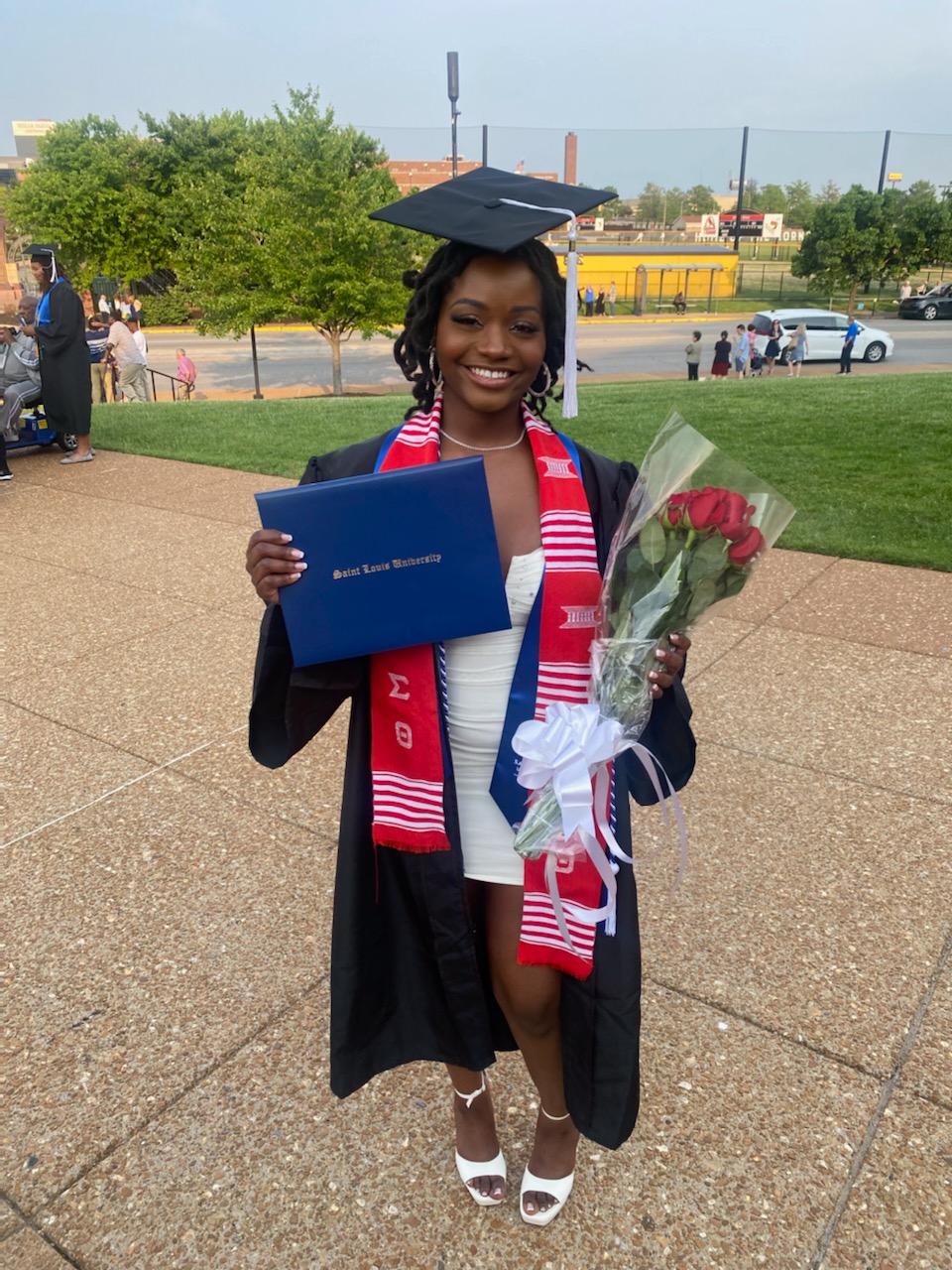 In 2017, the two organizations again united to establish a fund to provide scholarships for high-achieving Boys Hope Girls Hope graduating seniors who make SLU their destination for higher learning. The Boys Hope Girls Hope Scholarship at SLU Fund was established to support admitted scholars financially.   
The initial fund provided scholarship money to Boys Hope Girls Hope collegians who attended SLU but was not yet endowed through the university. In February 2019, John Vatterott, a long-time supporter of Boys Hope Girls Hope, had the idea to get the scholarship endowed at SLU and issued a challenge to other supporters to join.  
"The Vatterotts were a major support to the initial scholarship fund," Fr. Chris Collins said, "They suggested we go out and raise funds for the scholarship, and they would match." When discussions around the scholarship began, Collins was the Assistant to the President for Mission & Identity at SLU. Collins is now the Vice President for Mission at the University of St. Thomas in St. Paul, Minnesota. 
John and his wife Joan graciously matched any gift toward the fund up to $25,000 from each Boys Hope Girls Hope affiliate city in a special drive aimed at SLU alumni living there.  Through SLU's Go Further Campaign, the donor's and the Vatterott's gifts were matched, so the initial $25,000 raised would equal $100,000 in scholarships.  Nearly 60 donors gave to the cause. 
"
Coming out of high school, SLU gave me the best financial aid package. My affiliate highly recommended it, and I knew there would be a great support system there

."
Since the scholarship became endowed, 14 scholars have enrolled at SLU.  
Blake Stevenson and Indigo Smith, alumni of the Boys Hope Girls Hope of Illinois affiliate, graduated from SLU in May. Stevenson graduated with a degree in finance with an emphasis on real estate Finance, and Smith earned a degree in biology.  
Blake's major classes prepared him for his first job out of school. He has accepted a position with Boys Hope Girls Hope internship partner KeyBank as a Commercial Real Estate Finance Analyst in their Real Estate Finance department. After completing an internship with the company last summer, he was offered a position.  
Indigo plans to return to school in the fall for her master's in animal science before applying to veterinary school. She is currently working at a veterinary clinic in Tampa.  
Smith knew SLU was the school for her when she visited with her family during her senior year of high school.   
"When I came down to visit with my grandparents, I felt this instant connection with the school like it was where I needed to be. I visited again with my affiliate later, which solidified it for me."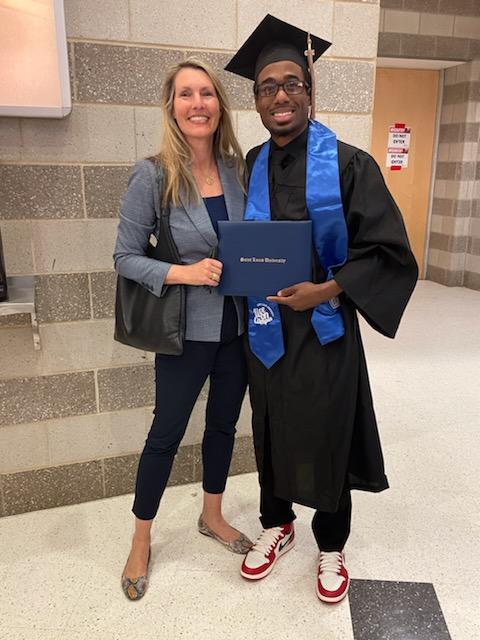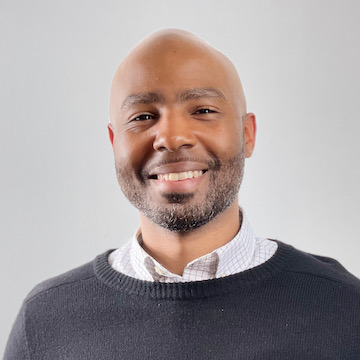 James Williams is the Director of Postsecondary Success and Strategic Partnerships. James leads college, career, and alumni programming for the Network, supporting affiliate capacity in these areas, and managing partnerships with universities, intern placements, and peer organizations.
While at SLU, both students were able to make the most of their time inside and outside of the classroom. They each participated in several clubs and organizations, including Greek Life, volunteered, and made lifelong friends with students from different cultures.  
Boys Hope Girls Hope partners with colleges and universities that align with our mission and values and are committed to supporting young adults historically underrepresented in higher education.  
For scholars like Blake and Indigo, partners like SLU allow them to attend college at little to no cost. 
 "Coming out of high school, SLU gave me the best financial aid package," Stevenson said. "My affiliate highly recommended it, and I knew there would be a great support system there." 
SLU will welcome three more Boys Hope Girls Hope scholars to campus this fall.