We nurture and guide motivated young people in need to become well-educated, career-ready men and women for others.
We know that access to quality education, opportunity, and a network of support changes everything for a young person. That's why Boys Hope Girls Hope makes sure our scholars, collegians, and alumni can count on us for the long term. We partner with them and their families to offer pathways that provide the right support at the right time.
Our scholars seek out the program and come to us with a hunger to learn, grow, and BE the hope. They have the ability. We supply the opportunity.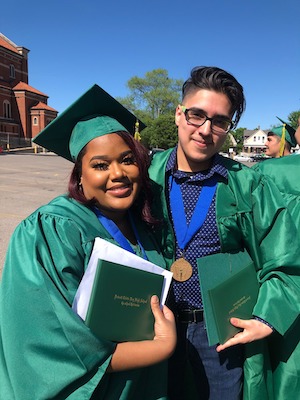 We spend years with each scholar—from middle school to college and career launch—attuned to their individual needs, helping them to leverage their strengths, and reach their potential.
We provide dynamic family-like environments, goal setting and mentoring, college and career preparation, life skills, financial literacy, as well as emotional, social, and spiritual support.
We instill in our scholars the value of being a person for others—to serve in their community, to recognize and reflect upon social issues they care deeply about, to believe they can be a change maker, to lead with confidence, and to pay it forward.
We select motivated young people in need.
Need can include a variety of factors, such as financial hardship, severe stress on the family, parent/guardian illness, neighborhood violence, or an underperforming school—most anything that would create significant barriers to a young person realizing their potential.
Young people ages 10-14 at admission.
Capable of rigorous academic college-preparatory work.
Need for a long-term, value-centered, nurturing setting.
Wants to apply, understands, and accepts expectations.
Relates positively to others.
Supportive family or guardian to partner with the team.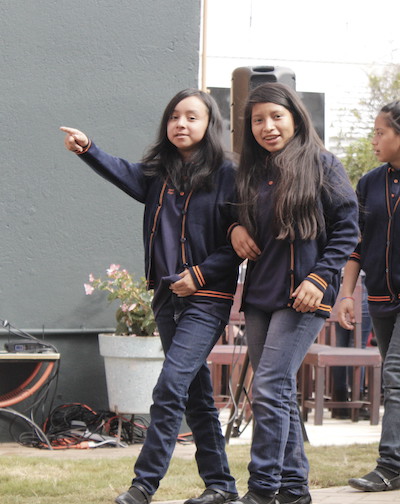 young people served across our Network
are girls and young women
are first-generation college students
are from low-income households
are from underrepresented minority groups
We have one program with two unique but complementary pathways to meet young people's needs.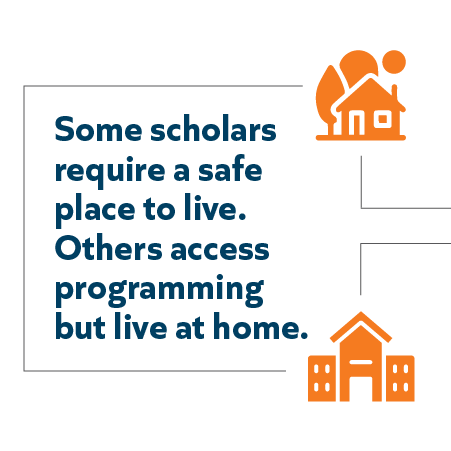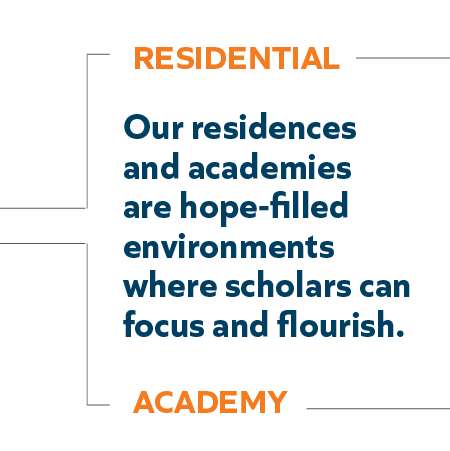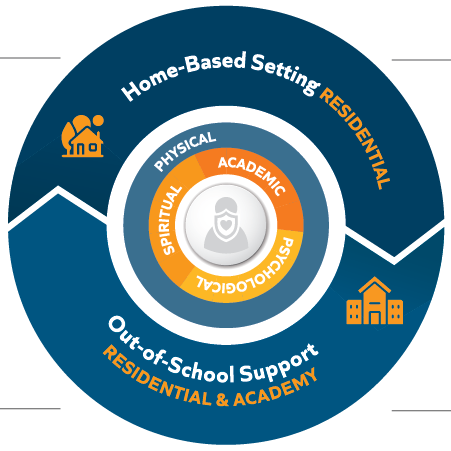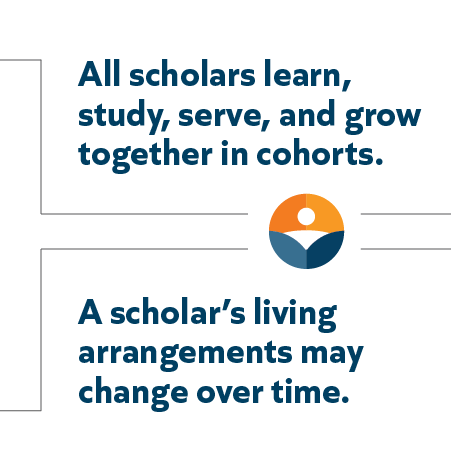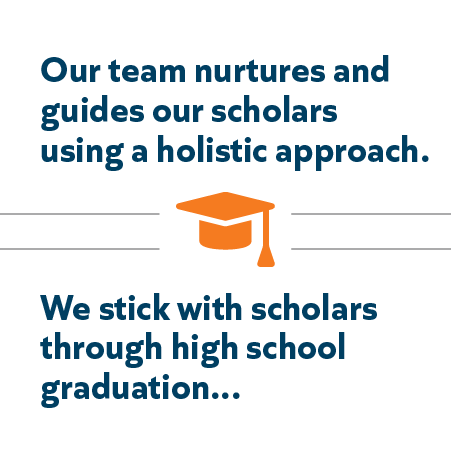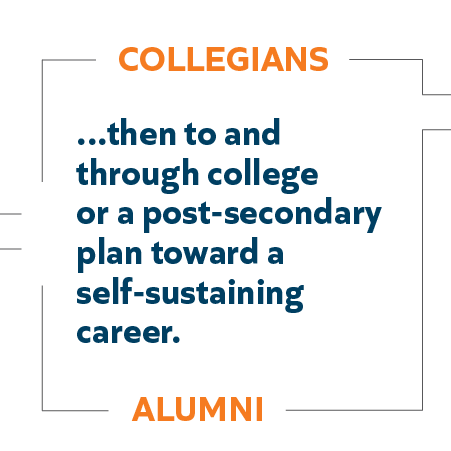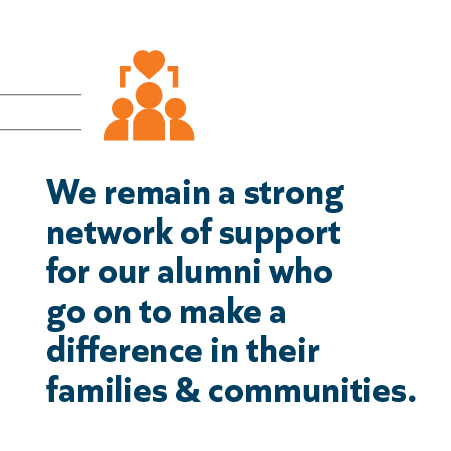 NETWORK PROGRAMMING & INITIATIVES
Boys Hope Girls Hope uniquely offers young people the benefits from a strong combination of deep local impact as well as activities, interactions, travel, diverse perspectives, and unique experiences through signature Network programming and initiatives that build curiosity, purpose, and perseverance.
Boys Hope Girls Hope has been around for 45 years, and our mission is critical now more than ever. Too many young people face intense barriers to their healthy well-being and personal development. Learning disparities, trauma, food insecurity, and depression, especially among teens, are on the rise. Educational costs are escalating. The Covid-19 pandemic has left even more young people facing grief or parents who are chronically ill. And all of this is more prevalent in communities of color. Boys Hope Girls Hope's mission, program model, and approach are just as relevant today as when we started in 1977. Through studying research, performing regular evaluations of our work, and building new strategic partnerships, we're staying true to our mission, adapting to these ever-changing times, and finding new ways to help more young people thrive.
Boys Hope Girls Hope employs an extensive system of quality assurance checks and standards to ensure that:
our scholars receive the best care possible
our donors' dollars are used responsibly and effectively
programming is delivered according to our research-informed. best practices and Boys Hope Girls Hope standards
Our progressive learning and growth are driven by continuous quality improvement through our Performance Management Tool (PMT).
Developed by Network Headquarters, the PMT includes a semi-annual assessment across six organizational domains. Each affiliate's local board of directors and leadership team performances a self-study of its compliance, outcomes, and standards of excellence. Every two years, there is input from outside stakeholders, other affiliates, and Network Headquarters.
Affiliate and Network leaders identify growth areas and develop strategic and tactical improvement plans for implementation over the two-year cycle. Top-performing affiliates in key progress indicators (KPIs) share promising practices with other affiliates through facilitated discussions.
Progress is continuously reviewed, and Boys Hope Girls Hope utilizes this internal evaluation to remain effective and impactful in our work.
Our partnership with parents, guardians, and families is collaborative and supportive. We work together and include parents in goal-setting and decisions related to their scholar. Program participation is voluntary and expands the scholar's network to include other Boys Hope Girls Hope scholars, collegians, alumni, team members, and mentors from the community.
Know of someone you'd like to refer for the program? Here's why you should consider:
Our program is designed to help motivated young people who need the space to thrive with a sturdy foundation for success. We enhance the education of our scholars by providing individualized guidance and maintaining stability and structure in a nurturing environment. Each scholar participates in many enrichment opportunities to support academic and personal development. The Boys Hope Girls Hope experience is a long-term, voluntary, and holistic program.
Candidates for Boys Hope Girls Hope must be:
Between the ages of 10 and 14 when applying
Ambitious and motivated, and have positive goals and a cooperative work ethic
Capable of thriving in an academically rigorous setting and completing challenging coursework; free from behavioral or substance abuse issues and learning disabilities
Willing to adapt to Boys Hope Girls Hope's value-centered, family-like environment and embrace high expectations in showing concern for others
From a family that is willing to collaborate with the program team and accompany their child on the journey to academic achievement and personal growth
In need of access to a quality education, with family or community factors that impede academic and personal success
We have affiliates in major cities across the US, and in two countries in Latin America.
We lead, support, strengthen, unify, and mobilize our local affiliate teams.