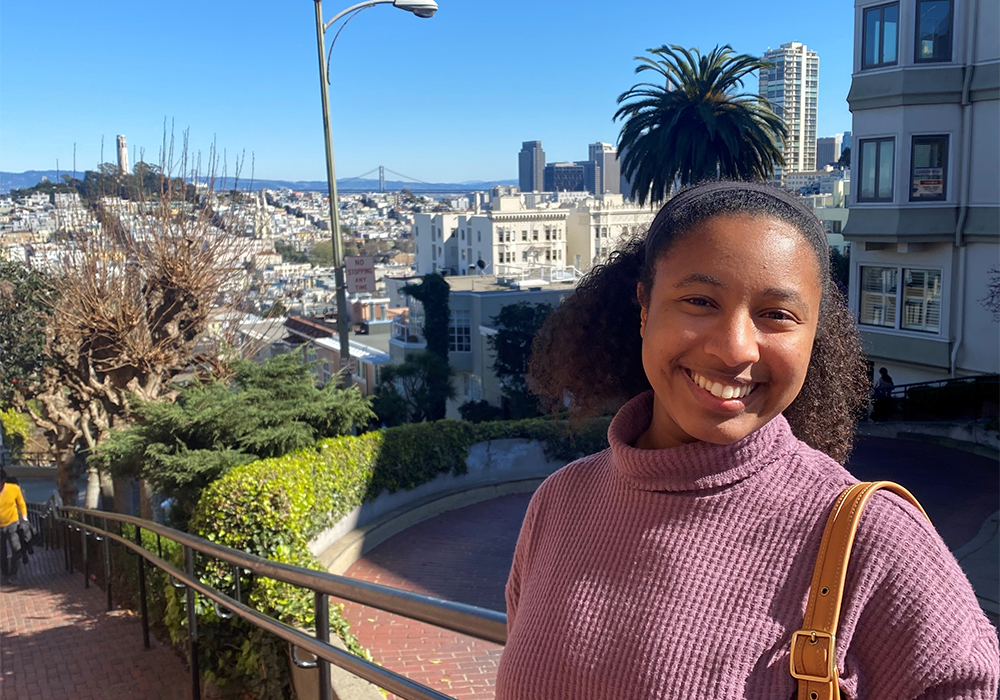 Nicole

Frazier

Co

nnects to Life-Changing Opportunities

with Boys Hope Girls Hope
"Joining Boys Hope Girls Hope was pivotal because once I knew I was in a place where people were rooting for me, I could focus on doing the things that helped me thrive."
When other teens were figuring out their dreams, Nicole Frazier was figuring out where to live. 
"After my mom was diagnosed with cancer, she couldn't work, and this made it difficult for us to find steady housing," Nicole says. "We stayed in a motel for as long as we could afford it. Finding a secure place to stay was a necessity." 
A family Nicole was dog-sitting for told her about Boys Hope Girls Hope, and after spending the summer with that family, she moved into the Boys Hope Girls Hope of New Orleans residence.  
"It wasn't easy for my mom because it was always the two of us, but she let me make this decision for myself," Nicole says. "I worried that I wouldn't fit in." But Nicole's mom soon learned that she could stop by to visit whenever she wanted, while Nicole found a community of belonging where she was welcomed instantly and gained confidence in her abilities. 
"Boys Hope Girls Hope became family to me," Nicole says. "They gave me space to focus on my schoolwork. The other scholars and I ate dinner, volunteered, and went on fun outings together, which had become so hard for my mom as she needed more and more bed rest." 
Added Nicole, "Boys Hope Girls Hope also enabled me to pursue my passions, such as taking care of animals. Almost four times a week, they ensured I could get to the Louisiana SPCA to help socialize dogs and cats for adoption." 
 "Joining Boys Hope Girls Hope was pivotal because once I knew I was in a place where people were rooting for me, I could focus on doing the things that helped me thrive," Nicole says. 
From Boys Hope Girls Hope trips to other cities and STEM conferences, Nicole also learned how to network and about career paths and companies that were not on her radar.  
"Oh, I was a wreck at my first conference," Nicole says. "But I soon learned that networking didn't come naturally to many of my peers, either! We learned from each other how to start conversations with really cool people from places like IBM and Raytheon Technologies. These networking opportunities that came from Boys Hope Girls Hope were hugely motivational. I began to visualize how I belonged in college and believed I could get there."
These networking opportunities that came from Boys Hope Girls Hope were hugely motivational. I began to visualize how I belonged in college and believed I could get there."
For Nicole, college meant only one place: the West Coast. This also meant that she had to face one of her most significant challenges yet. She says, "As I struggled with money, I wondered how I would ever afford college and compete with people who didn't have the same issues. It was stressful. But I was determined to go to San Francisco. I kept applying for scholarships. Nothing was going to stop me!"  
Her perseverance led to a robust financial aid package. Her childhood dream became a reality on the day she left for the University of San Francisco. Now Nicole is a second-semester junior studying politics and working as a barista and shift supervisor, with an eye on a career in data analysis for marketing.  
"I've always loved reading and history, and with the knowledge I've gained, my goal is to be able to use data to help tech companies assess the impact of their engagement strategies on potential and current customers. For example, how can they determine if a particular commercial was successful? What is driving customers to return to their website?"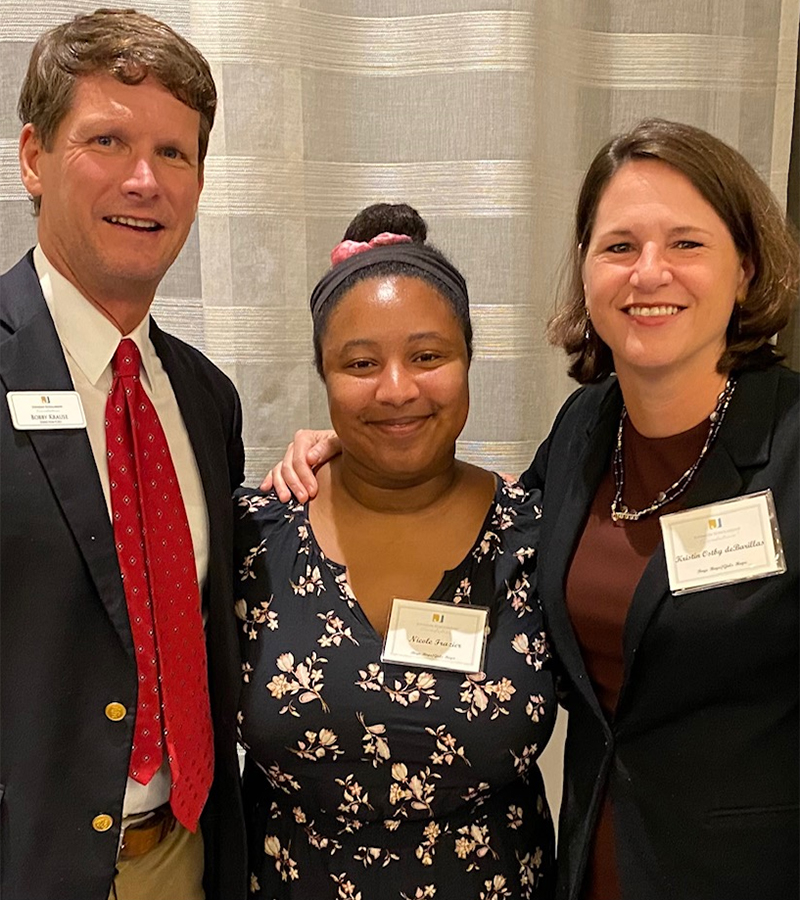 "Giving back to Boys Hope Girls Hope is one of the most important things to me. A meteor wouldn't have stopped me from doing the talk for the Johnson Scholarship Foundation! I look forward to staying involved."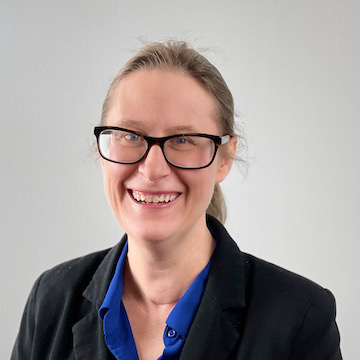 Noel Schiber is the Grants and Stewardship Manager. She works to support fund development outcomes through grant and proposal writing, donor stewardship, and reporting for Network Headquarters, while also facilitating affiliate best practice sharing in these areas as well.
This past fall, Nicole joined Boys Hope Girls Hope President and CEO Kristin Ostby de Barillas to share her story with the Johnson Scholarship Foundation (pictured above), which decided to award Boys Hope Girls Hope with three years of funding toward scholarships for collegians. Nicole says, "It's important to help secure the futures of other kids like me." 
 At that presentation, Nicole mentioned that she hoped to work at Salesforce. Through Boys Hope Girls Hope's growing partnership with Salesforce, she met the right people there to make this happen and recently had a personal tour of the company headquarters. "That tour was a vital networking moment for me – one of the top ten experiences of my life," Nicole says. "The office had a 360 view of the city, and, as a barista, I'm a bit jealous to say their coffee tasted better than mine! But most importantly, I saw this tech company's great diversity. I wasn't the only person of color in the room." 
Nicole has applied for an internship at Salesforce as she finishes her degree. When she's not working and studying, she relaxes with Minecraft and enjoys learning about the customs and foods of other cultures with her friends. Her favorite current television show is "Abbott Elementary." 
She returns to New Orleans to visit her mom, who had studied to be a pharmacist and now has a job that accommodates her continued health struggles. When she's there, Nicole also makes sure to visit the current scholars at Boys Hope Girls Hope of New Orleans. 
"We need Boys Hope Girls Hope more than ever," Nicole says. "It brings me to tears because so many kids need so much help, just like me. I needed the residential program, which was amazing, just as much as the kids who need the out-of-school program – a place where they can come to have a few snacks, talk with their peers, and get tutoring and mentoring. It means the world for kids and their parents, especially those who want to be there but can't." 
"Giving back to Boys Hope Girls Hope is one of the most important things to me," Nicole adds. "A meteor wouldn't have stopped me from doing the talk for the Johnson Scholarship Foundation! I look forward to staying involved." 
Says Nicole, "I have an apartment, a full-time job, and I'm making it as an adult as I pursue a career. It's an underrated blessing to be able to be stable. I'm able to take care of myself. I love that there is a place like Boys Hope Girls Hope that gave me opportunities to get here."